CHEVIOT HISTORY

I have been fond of Collies as long as I can remember. <More Info>
I got my initial American Kennel Club (AKC) wings in the obedience ring with a Collie in 1975 and started looking at the conformation show ring when he (Aries) started getting older. My husband Larry and I joined the Collie Club of America (CCA) in 1983 and have been members ever since. I went to my first CCA National Specialty in Detroit in 1984 to touch and see what I had been looking at in the magazines. The event that really inspired me was when they brought all of the champions into the ring at the same time. There were row after row of beautiful Collie champions and I knew I wanted to be in that ring with my own Collie some day. I bought my first show puppy below 7 months later.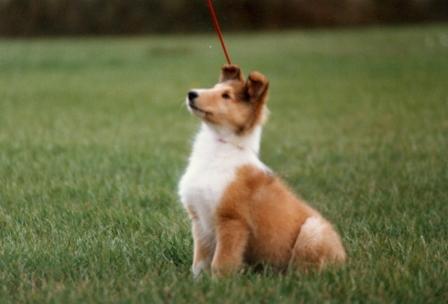 Tiffany my first show puppy at 10 weeks old - Treeeeeat!

In 1986 I established my kennel name Cheviot Collies. It is derived from Cheviot Hills, the rolling hills between Scotland and England where they say the Collie originated. Cheviot Hills Video

My Mentors:

There were no Collie breeders in my area when I got started. My original mentor was Bobbee Roos via her book "Collie Concept." What a wonderful asset to the Collie breed she was. My whelping mentor has been Muriel P. Lee, via her book "The Whelping and Rearing of Puppies."

Another mentor was the late Mary Hardwick of Joius Collies. She sold me my first show puppy that became my first champion Ch. Joius Twin Pin (Tiffany.) Mary was the type of person that enjoyed the "journey" and the camaraderie more then the competition and details of the sport. We got a speeding ticket going to a show one time and the highway patrolman claimed he had been trying to pull us over for 5 minutes--we had a lot to talk about when we got together. Mary's mentoring was more about enjoying life and the journey than it was about Collies.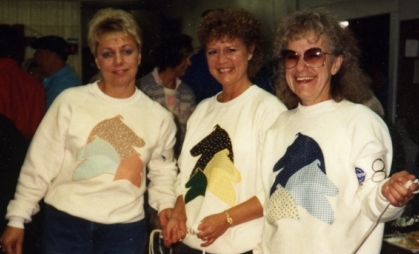 Gloria, Nancy, and Mary modeling new Collie shirts.

Another mentor-type figure I was fortunate to meet was Steve Field. I was a long distance member of the Nebraska Collie Club for several years, and drove 3 hours one way just to hear him speak at meetings. He had a lot of common sense advice and he was a wonderful storyteller. One thing I remember about Mr. Field was that he always provided his evaluation of a Collie by pointing out its virtues and never spoke of faults. What was missing in his list of virtues was a subtle message to the owner, if they were ready to listen. Mr. Field was a nice man and great teacher.

The Postscript Era:

Mary Hardwick (Joius Collies) and Joyce Houser (Twin Creeks Collies) bred Twin Creeks Joius Pin Up (Pinnie) to Ch. Twin Creeks Postscript in 1984, which produced my first show puppy and champion Ch. Joius Twin Pin (Tiffany) and Ch. Sabrium Joius Codie (Owned by Gloria Dallum). Both of these champions had the classic Twin Creeks Post Script virtues of over all balance, nice stops, flat back skulls, and clean sides.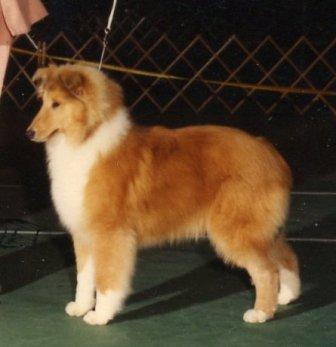 Pinnie at 6 months and her first show

I bought Tiffany's dam Pinnie (above) from Mary Hardwick in 1985. Pinnie was a Ch. Twin Creeks Head Master litter sister and I consider her my foundation bitch. She was a cute petite bitch that could explode into the Alpha bitch from hell when there was a question on who was the boss in the kennel. Pinnie never did much in the ring, but produced two litters that were dear and near to me.

My first show puppy Tiffany got her first points from Dorothy Welch at a small show and it made for a short ride home. I saw Dorothy judge at the 1984 CCA, so I thought I had hit the jackpot. Then reality set in and it was another year and a half before I put another point on her. I started showing Tiffany when she was 6 months old and Ted Paul (Mr. Show) gave her the nod and her final major to finish at the CC of MN almost 3 years later. One thing Tiffany and I had down after teaming up for that many shows, was how to show in the ring. I remember after finishing her we ran out of gas on the way home, while in a fog of "can you believe it, can you believe it, can you believe it." It was 1987 and I noticed my grooming tack box began looking less "novice."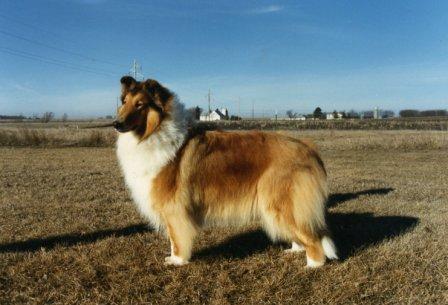 Ch. Joius Twin Pin (Tiffany)

While I was getting my feet wet with my first litter from Tiffany, Gloria Dallum, who owned Tiffany's brother Ch. Sabrium Joius Codie, had bred him to Charisma's Holly Berry Annie, a bitch out of Ch. Twin Creeks Joius Pekoe—one of my favorite dogs at that time. Gloria and several other Collie breeders stopped at my place while they were at our local show and she brought this pretty little puppy from that litter with her that I couldn't take my eyes off. While I was working through my justification list for buying the puppy, Candi Sapp of Candyapple Collies had made up her mind and closed the deal. This pretty little puppy went on to become Sabrium Rough Cut and the puppy that my Tiffany would never produce. That being said, Candi still let me use and co-breed Carly later on, which allowed me to carry forward what I liked about Tiffany/Postscript.

Candi Sapp's Sabrium Rough Cut at 8 weeks.
As I look back at this time period I probably got a little kennel blind. I believe it is a natural tendency as you start getting emotionally involved with your first litters from day one. I still have that tendency today, but think I keep a better handle on it. When I go into a show ring today I make my pick mentally who the winner should be and it may not be on my lead. I use my annual trip to the CCA National to compare my trees to the forest.

Grandmaster Era:

After I got Pinnie from Mary, some puppies started catching my eye--all sired by Ch. Twin Creeks Grand Master. I decided Pinnie would be bred to him next time she was in season and luckily we got the breeding done shortly before Grandmaster was shipped to Japan. If I see a stud producing well with several bitches, I try to breed to that stud first, if he is available, then to his best son or grandson, if he isn't. I read that somewhere early on and find it to be true.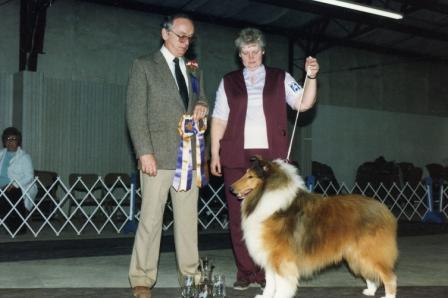 Joyce Houser and Ch. Twin Creeks Grandmaster
This was only the 2nd litter I whelped, so I didn't have a whole lot of confidence/experience yet in picking puppies. Since Mary co-owned Pinnie she was to get 2nd pick out of the litter and Joyce Houser elected to take the 3rd pick instead of the stud fee. A little pure for sable bitch with this adorable face in the litter made my novice 1st pick very easy. Her registered name became Ch. Cheviot Joius Grand Finesse and her call name was Finesse.

Finesse went on to become Winners Bitch and Best of Winners at the 1990 CCA. Finesse was not only a beautiful bitch she was a show machine. She showed the entire time we were in the ring that day at the 1990 National and she never once took her eyes off of me—it wasn't my choice it was hers. The judge Doris Werdermann would glance over from time to time and never once did she see less than a pretty picture. I remember ending up between Dona Williams and Debbie Holland for winners bitch after Doris made her final cut to the center of the ring and I started thinking to myself, "You're in way over your head now." Then I looked back into Finesse's eyes and she would make me feel like we were the only two in the ring that day.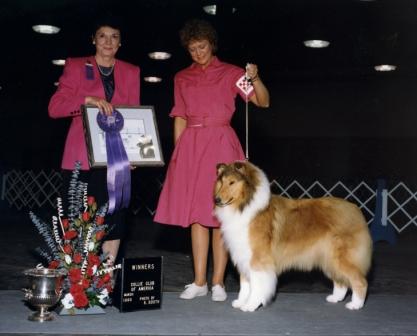 Ch. Cheviot Joius Grand Finesse and Judge Doris Werdermann

From Doris Werdermann's critique of Winners Bitch. "My Winners Bitch Rough came from the very hotly contested Bred-By-Exhibitor class of some 32 actual competitors with the award of the class carrying a great deal of prestige for the breeder. The winner was rightfully in place for such a competition. Cheviot Joius Grand Finesse, bred by Nancy and Larry Parsons & Mary Hardwick, dominated the class by her stunning eye, expression, smoothness of head, over-all balance and a natural pose that could identify her whether in a show ring, meadow or living room. Every time I looked in her eye, it told me.... 'life is so beautiful'. Having mastered the Bred-By class, the next competition was a level or two higher - the very imposing and beautiful Winners class! For any bitch to have been able to reach this class in itself was an achievement. I believe those who were there can relate that this was, indeed, a class of quality "champions to be" very shortly. Probably any judge could have picked a Winners and Reserve and not be wrong! I went with the Bred-by, Cheviot Joius Grand Finesse, again because of that natural, elegant with strength, over-all balanced look and of course, an eye that can really nail you! This win completed her championship title and then the "topping on the cake", on to Best of Winners. Congratulations to all involved - a day to remember in your lives and mine!'

I will never forget the comment Bobbie Roos said when she gave me the nod for Best Bred By and that was, "Dot Gerth would have picked this one." Unfortunately I never got any puppies from her (a long story), but what she did give me was an unforgettable experience and benchmark of what it was like to be in the ring with the best.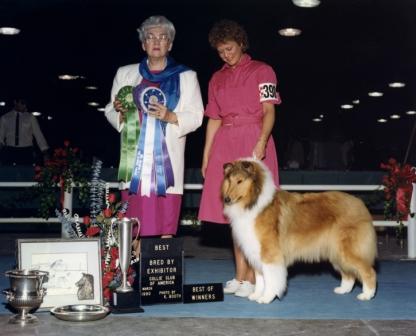 Ch. Cheviot Joius Grand Finesse and Bobbie Roos

Mary's 2nd pick from the Grandmaster and Pinnie litter was Ch. Joius Grand Destiny. I also kept the 4th pick from this litter, Ch. Cheviot Joius Pin Twin (Kayla.) I know my hat size grew a size or two after this litter.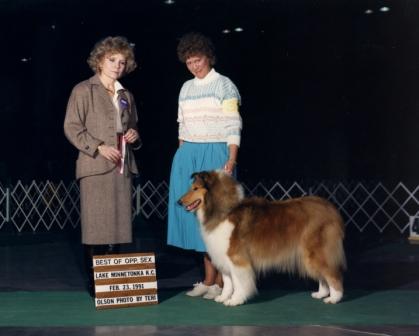 Ch. Cheviot Joius Pin Twin

I started getting a few dogs from the Postscript/Pinnie and Grandmaster/Pinnie litters. Rembrandt my tri boy, a Tiffany and Grandmaster grandson, was bred to Cheviot Victorian Empress, a bitch I co-owned with Nancy Iott. I kept a bitch from the litter that didn't work out, so I bought back a handsome male from Nancy who became Ch. Sunny Slope Cavendish Quest (Spanky.) Spanky had a great body and coat along with the Grandmaster look. He won the 8-10 Veteran class at the 2000 CCA under Judge Helga Kane.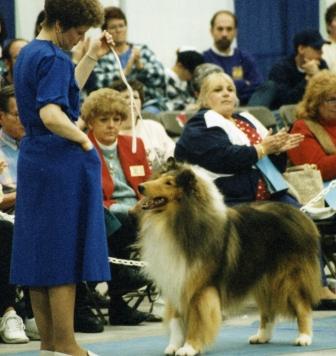 Ch. Sunny Slope Cavendish Quest – 8-10 .

The Midnight Era:

Another batch of puppies started catching my eyes around 1993 from Ch. Vennessee's Midnight Express (Mister.) Not having the right bitch of my own to breed to Mister, I contacted Candi Sapp and asked her if she would be interested in doing a co-breeder arrangement and breed her Carly to Ch. Vennessee's Midnight Express. She agreed and I will forever be grateful to her. Candi whelped the litter and when I saw the puppies at 5 weeks old, I immediately fell in love with a little tri boy who later grew up to be Ch. Cheviot Midnight Opus (Opie.) Opie wasn't the show machine like my previous CCA winner Finesse was, as a matter of fact he was a handful. My lucky stars lined up nicely on this one with the help from one of the top Collie handlers, Dona Williams. I started having troubles showing Opie after I put my first major on him and Dona thought the problem was he was becoming a "momma's" boy. This was a couple of months before the 1999 CCA National and Dona thought Phyllis Autrey, who was judging dogs, would really, really like him, so momma let Opie go to Aunt Dona's Collie boot camp before the National. Well, Dona was right and Phyllis Autrey really, really, really liked him and he went Winners Dog and Best of Winners.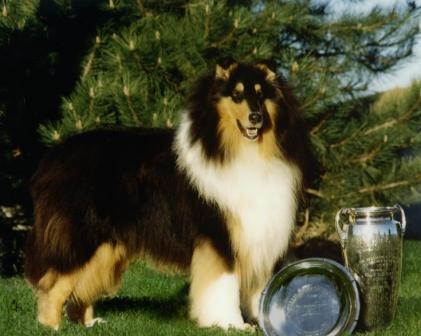 Ch. Cheviot Midnight Opus

The following is from Phyllis A. Autrey's critique . "From the large Open Tri-Color class, two very nice dogs rose to the top. The eventual class winner, Cheviot Midnight Opus, had an exquisitely balanced head, smooth and clean with no depth, a flat skull, good stop and beautiful expression. He was a medium size dog with no useless timber, had a well-fitting black coat of good texture and moved very well. As the Winners Dog class was assembled in the ring, I felt a lump in my throat and thought "How will I be able to choose a single winner from all these beautiful dogs?" It was definitely breathtaking to see such a lineup of quality Collies. My choice was the open tri, Cheviot Midnight Opus, who just had everything going for him. From his exquisite head detail to his black shiny coat of correct texture, when I looked at him there seemed to be a sign that read "Best one on this day". It was my pleasure to award him Winners Dog".
We repeated this breeding and Candi kept a beautiful sable dog that became Ch. Candyapple Road Show who I would later use. Meanwhile I wasn't having much success with Opie breeding and found out he had a very poor sperm count. After several failed tries, I sent him to Phyllis Autrey in Texas to see what she could do and she didn't have any success either, so Opie came back home. I had just about given up on Opie's stud career when Barbara Scott of Elsinore Collies contacted me and convinced me to let her try him out on a bitch of hers. She was successful with the breeding to her smooth Ch. Elsinore's Razzle Dazzle who was a Ch. Vennessee's Midnight Edition granddaughter. I got a rough blue bitch out of the litter that became Ch. Cheviot Concerto (Connie) who has produced two champions to date from two different litters. With the success Barb had with Opie, I decided to leave him with her to see if she could continue with her success. A tough love decision, since he was momma's boy. I felt comfortable with Opie staying with Barb, she told how wonderful he was and she understood that he was special to me. Unfortunately, she called me one night and said he was gone and that he had died of a heart attack. Another pretty boy I'll be glad to see again some day.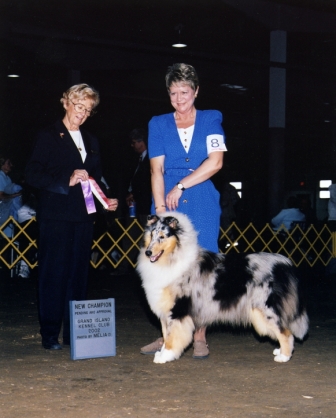 Ch. Cheviot Concerto
While I was looking for bitches that I could breed to Opie, before he died, in walks a little sable bitch at a show that Barbara Saterbo of Sollis Collies had brought out to socialize that immediately stole my heart. I was fortunate that Barb let me buy her on a co-ownership. I called her Tina and her registered name is Ch. Cheviot Sollis Center Stage. She is a double granddaughter of Ch. Tartanside Allegiance.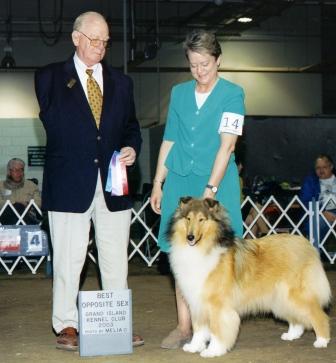 Ch. Cheviot Sollis Center Stage
When my blue bitch Ch. Cheviot Concerto (Connie an Opie daughter) came into season, I bred her to the Sire of the puppy I just purchased from Barb, Sollis Eclipse (Clipper) a pretty tri boy owned by Barbara Saterbo of Sollis Collies. Clipper was a Ch. Tartanside Allegiance son. He has a very nice head with that eye to die for. The litter came earlier then expected and only one puppy survived—I call him my miracle puppy. Little heel and sock biting Billy became known as Ch. Cheviot Fit the Bill. So Billy is a grandson of Opie (1999 CCA WD) and Ch. Tartanside Allegiance. Billy finished with a group one and is a joy to show and travel with. Billy is my buddy and won't live any other place except with me.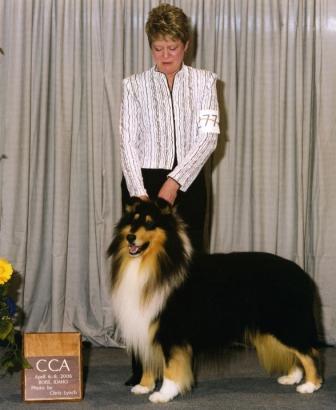 Ch. Cheviot Fit the Bill (Billy)

I really liked what Ch. Tartanside Allegiance (ROM) was producing, so I bred Ch. Cheviot Concerto (Connie) to him. I kept a blue bitch I call BG and is now Ch. Cheviot Technicolor Dreams.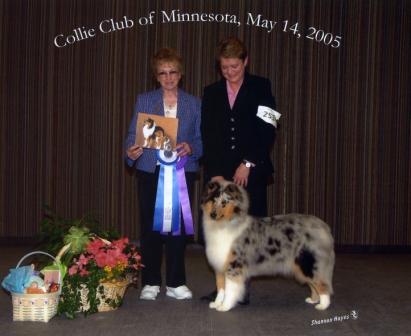 Ch. Cheviot Technicolor Dreams (BG) at 7 months
Connie's next litter was by Barb Saterbo's Ch. Sollis Silver Image "Beemer". I kept a bitch I called Cheviot Sollis Le Tour "Diva". I started showing Diva as soon as she turned 6 months old. She finished in Feb. of 2007, receiving one of her majors by going BOB at the CC of MN, under Judge Mary Murphy. She is just a fun dog to show and is VERY HAPPY about everything and everyone.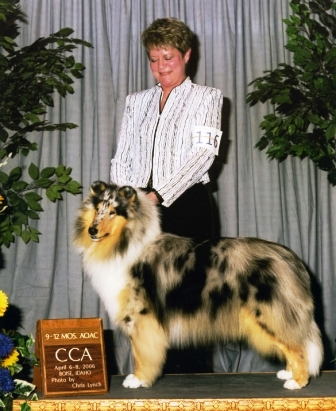 CH. Cheviot Sollis Le Tour (Diva)
Since Opie died before I could breed him to Tina, I decided that I would use Candi Sapp's sable dog Ch. Candyapple Road Show (Lance), the repeat of the Opie breeding. Barbara Saterbo kept a tri dog name Jake and is now Ch. Sollis Cheviot Stand N Deliver. I kept a pure for sable I call Face and his registered name is Ch. Cheviot Pleasant View. I also kept a sable bitch I call QT and her registered name is Cheviot Exquisite.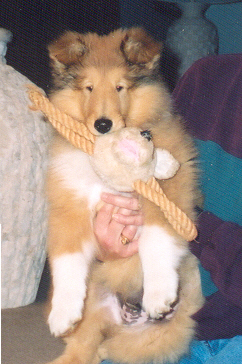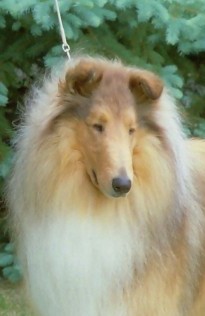 Ch. Cheviot Pleasant View (Face)
Ch. Cheviot Sollis Center Stage's (Tina) was bred back to her grandsire Ch. Tartanside Allegiance (Lee) to lock in the Tartanside connection I always wanted. I kept a sable dog I call Gunnie who is now Ch. Cheviot Sollis Gallant Boy the 2006 CCA WD and a sable bitch named Ch. Cheviot Sollis Understudy (Tippy.)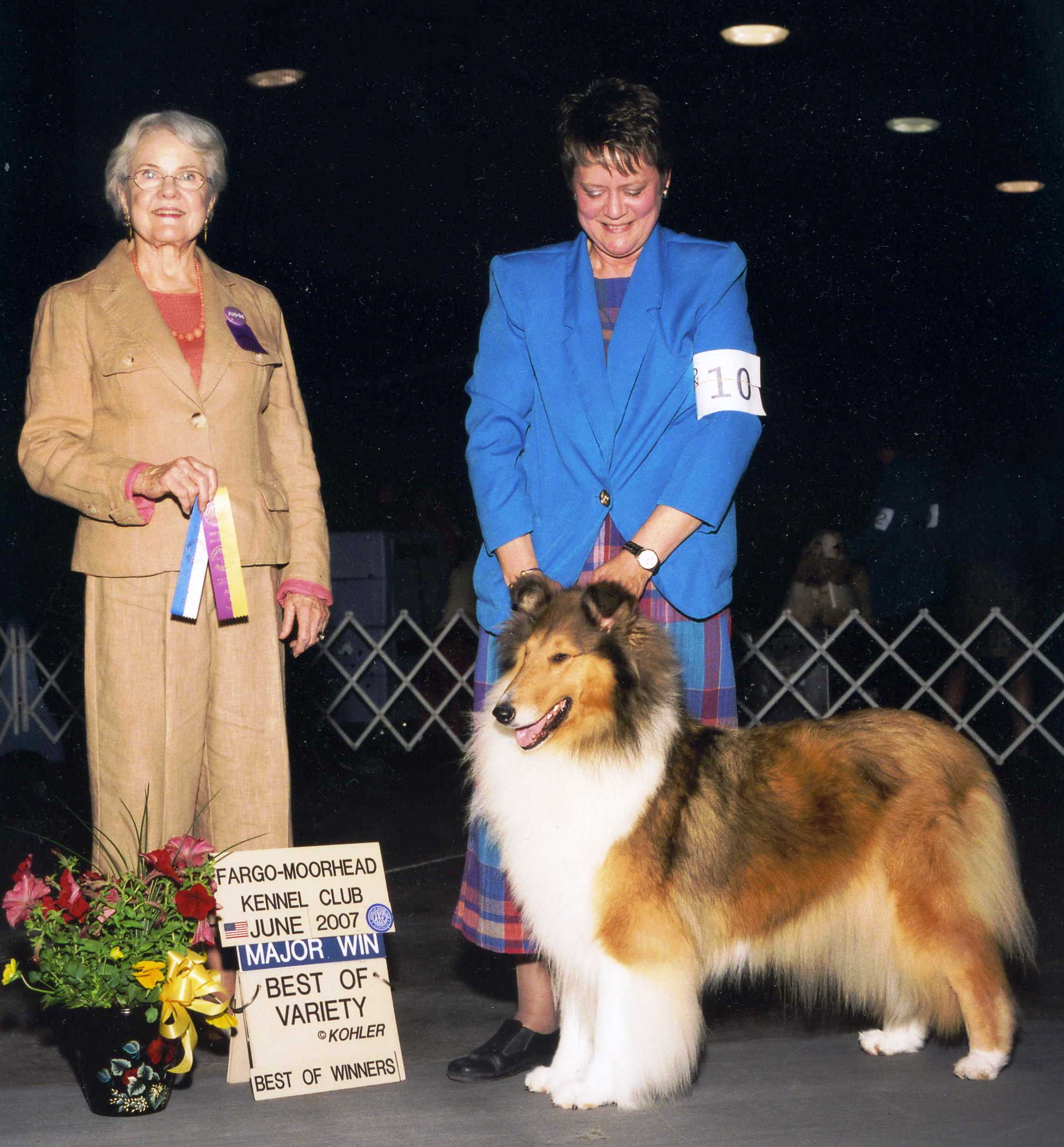 Ch. Cheviot Sollis Understudy (Tippy)
Gallant Boy Era:
My latest something special was Winners Dog at the 2006 CCA from the 12-18 month class Ch. Cheviot Sollis Gallant Boy. Gallant Boy (from the way he moves in the ring) had only been out 3 weekends before the CCA, so really wasn't ring-wise for what I was asking him to do. That being said, I believe I was very fortunate to have Brenda Miramon judging that day on his merits and overlooked my shaky presentation of him.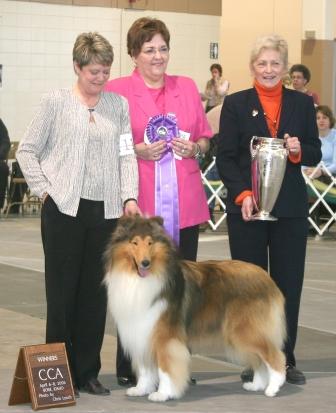 Ch. Cheviot Sollis Gallant Boy (Gunnie)
The following is her critique from the show. "The young dog caught my eye immediately. His body was beautifully balanced. When I looked into his face I was delighted. CHEVIOT SOLLIS GALLANT BOY has a melting expression with long and lean head, roundness of muzzle with no depth. These virtues made him a "Stand Out" in the class. All of my class winners each possessed outstanding qualities, but when I look at CHEVIOT SOLLIS GALLANT BOY, my heart "skipped a beat" and I knew he was my choice."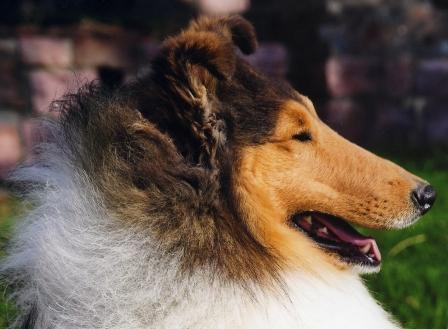 Ch. Cheviot Sollis Gallant Boy (Gunnie)
I'm still actively breeding/showing and hope I can continue to do so for several more years. Thank you for your interest in learning more about my journey with my Collies.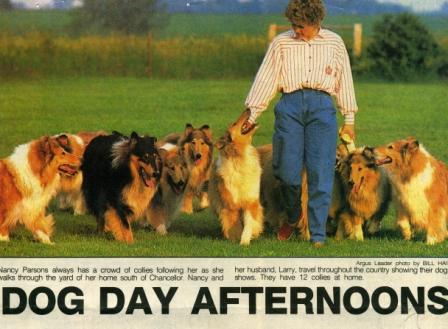 Article from a local newspaper in 1990.